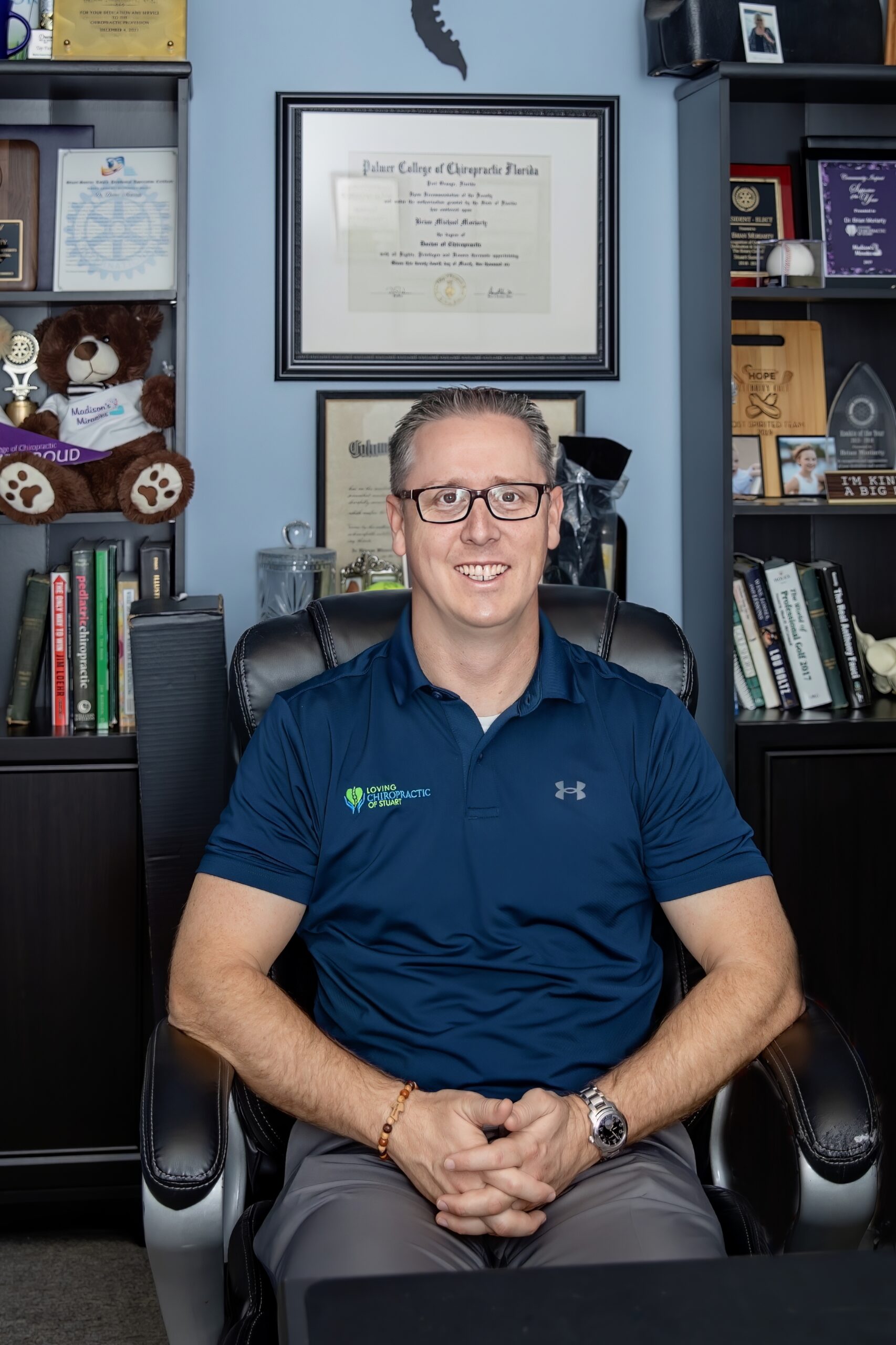 Dr. Brian Moriarty, D.C. is located in the heart of The Treasure Coast in Stuart and is a health professional dedicated to helping you achieve your wellness goals and offering chiropractic services. Loving Chiropractic of Stuart uses combined skills and expertise that spans the entire chiropractic wellness spectrum. Dr. Brian Moriarty, D.C. is a chiropractor who is committed to bringing you better health and a better way of life by teaching and practicing the true principles of chiropractic adjustments and wellness care.
Dr. Brian's father, Dr. Richard J. Moriarty, was diagnosed with Crohn's disease when he was just 17 years old. Back in the 1950s, there was not much treatment for it. They removed 3 feet of his intestine, but the disease persisted and it did not look good for him. A friend recommended a last ditch effort to visit a chiropractor. He would ride the train from Jersey City, NJ to Brooklyn, NY 3 times a week for chiropractic treatment.
His condition improved so much that he became a chiropractor himself and was even able to have 3 kids! Although a lot of damage was done, chiropractic care extended his life another 30 years until a heart attack claimed his life at age 47, when Dr. Brian was just 8 years old.
Dr. Brian prides himself as being alive due to chiropractic care, and has dedicated his life to the profession that has helped his family so much. To find out more about his amazing story, ask chiropractor Dr. Brian Moriarty, D.C. on your next visit!
Patients seeking treatment at Loving Chiropractic of Stuart are assured of receiving only the finest quality care through the use of modern chiropractic equipment and technology. Dr. Brian Moriarty and his staff have a genuine concern for your well-being and take pride in their level of patient service!
If you would like to become a new patient and make an appointment at Loving Chiropractic of Stuart call today! 772-219-3313